Nearsightedness, or myopia, is one of Canada's most prevalent ocular conditions, affecting 30% of Canadians, many of whom are children. Treatments like Ortho-K exist to help correct and provide a clearer vision for children with myopia.
Learn more about ortho-k and how you can get treatment for your child by booking an appointment at Dr. Zargar Eyecare.
Benefits of Ortho-K for Children?
Ortho-k can effectively treat children with myopia, helping to correct this condition and provide clearer vision. Here are some reasons you may consider ortho-k for your child:
Increased Flexibility
Ortho-k lenses are typically worn in the evening, meaning your child won't need to wear contact lenses or glasses when attending school, sporting events or other activities. They won't need to worry about breaking a frame or losing a contact lens during their daily activities.
Parental Supervision
If your child uses ortho-k during the night and at home, you may be able to supervise the treatment, ensuring that proper protocols are followed, such as checking to see if the lenses are well-cleaned before use.
Decreased Risk of Infection
If your child participates in water-based activities, they will need to be less concerned about getting bacteria into regular contact lenses because ortho-k is worn during the evening.
What Is Ortho-K?
Orthokeratology, or ortho-k, is a non-invasive treatment plan primarily used to help treat patients with myopia. It typically involves using specially designed contact lenses that are worn at nighttime and slowly reshaping the cornea to improve your overall vision. Generally, patients undergoing orthokeratology enjoy the benefit of not having to wear glasses or contacts during the day and without needing surgery.
Is Ortho-K Safe for Children?
Ortho-k is generally a very safe treatment option, and contact lenses can be used for many years if they continue to provide clear vision for the patient. One concern with ortho-k is contracting an eye infection, which is more likely in children that don't always practice good hygiene habits. We recommend teaching your children good hygiene habits and booking regular exams with your optometrist.
What Is Myopia?
Myopia, or nearsightedness, is a common vision condition where objects in the distance are blurry and difficult to see but objects up close are clear. Myopia can be diagnosed at an eye exam through a series of tests performed by your optometrist.
How to Get Started With Ortho-K?
We suggest booking an appointment with an optometrist to examine your child's eyes, which will help determine if ortho-k is a good treatment option. We will walk your child through removing, cleaning, and applying the lenses before they start to wear the treatment process.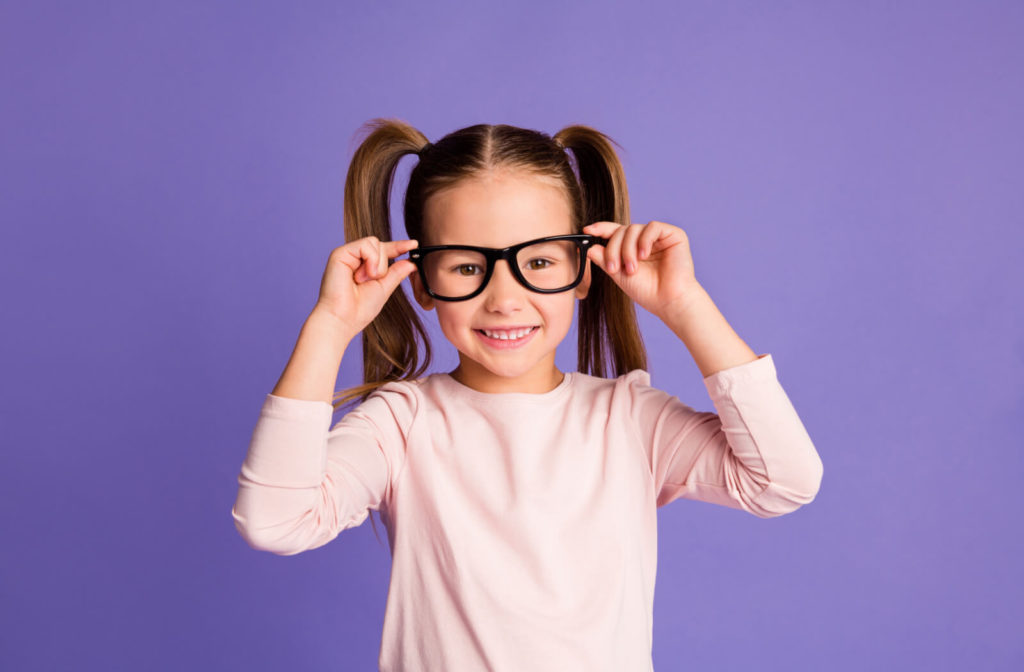 Alternatives to Ortho-K
Orthokeratology may not work for every child; in some cases, your optometrist may recommend an alternative treatment plan. Here are some other ways to treat vision conditions like myopia:
Eyeglasses & Contact Lenses
Eyeglasses and contact lenses can help to provide clear vision. We recommend booking an eye exam with your optometrist to evaluate your eyes and determine the prescription that may help to provide clear vision.
Tips for Taking Care of Ortho-K Lenses
Taking care of your ortho-k lenses is integral to help prevent infection and keep your child on track to improved vision. Here are some tips to follow when starting the treatment:
Cleaning
It's crucial to clean your child's lenses to help prevent bacteria from getting into your eye and causing an infection. Here are some tips for keeping your lenses clean:
Use only optometrist-approved cleaning solutions
Use a soaking and rinsing solution
Ensure the storage case is clean
Use eye drops to rewet the eyes when the contacts are in
Storing
Before storing your lenses in their case, ensure they have been properly cleaned and fill the case with a soaking solution before carefully placing the lenses inside.
It's recommended to replace your case every few months, and if it gets dirty, avoid using tap water to clean it out. Tap water may lead to unwanted eye infections—instead, use a saline solution and allow the case to air dry.
Book Regular Appointments
It's important to book follow-up appointments with your optometrist to evaluate the progress of your lens treatment and to check for any abnormalities that may be taking place.
Book an Appointment Today
At Dr. Zargar Eyecare, our team of professionals is happy to book an appointment and discuss the potential benefits of ortho-k for your child. We're here to help your child achieve clear vision